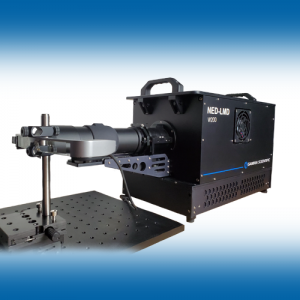 Near Eye Display Measurement System – Wide Field of View
The world's first wide field of view near-eye display light measurement device coupled with an integrated precision spectroradiometer that ensures single snapshot, high speed, high spectral accuracy characterization of AR, VR, MR and Heads-Up Displays. The benchtop instrument features a large 158deg field of view, motorized focus lens and a small 5mm entrance pupil to emulate the human eye. Its robust design and easy-to-use software with automated Device-Under-Test (DUT) Pass/Fail analysis allow it to be easily integrated on production lines.
Also available for optical waveguide-based displays.
Measurement Capabilities
Typical System Configuration
Specifications
Videos
Measurement Capabilities
Measurement Capabilities

✔

Center Color and Luminance

✔

Luminance Uniformity

✔

Color Uniformity

✔

Color Gamut Area

✔

Checkerboard Contrast

✔

FOFO of Sequential Contrast

✔

Image Geometric Distortion

✔

Chromatic Aberration

✔

Slant Edge MTF

✔

Flicker & Response Time

✔

Spectral Transmittance
Typical System Configuration
Specifications
Videos