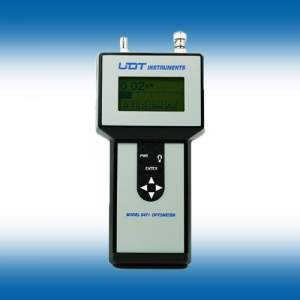 THIS PRODUCT HAS BEEN DISCONTINUED
The model S471 High Performance Handheld Optical Meter is ideal for photometric, radiometric, laser power, and fiber optic measurements. Designed to be used in a laboratory setting or field environment, the microprocessor controlled architecture features direct analog display, serial RS-232 output and analog voltage output.
Our wide range of optical meters, photometric and radiometric sensors is complemented by ISO/IEC 17025 accreditation by NVLAP (NVLAP lab code 200823-0), resulting in unmatched performance and custom configuration as required.
Applications
Display Measurement
LED Measurement
Laser Power
Strobe & Signal Measurement
Lamp Testing
Overview
Precision Solutions for Photometric, Radiometric & Laser Power Measurement
Wide dynamic range
High accuracy measurements
Programmable average readings in low-pass or boxcar mode
Sample speeds up to 53 Hz(1)
Optional USB to serial bridge converter
Long battery lifetime or use external power
CONFIGURATION OPTIONS The S471 can be configured with a wide range of sensors and calibrations in units including:
Luminous Flux (lumens) or Radiant Flux (Watts),
Illuminance (lux, foot-candle) or Irradiance (W/m2 ),
Luminous Intensity (candela) or Radiant Intensity (W/sr),
Luminance (cd/m2 , foot-Lambert) or Radiance (W/m2 sr).
Photometric Sensors (1)

Silicon Detectors 

Options include:  Standard Miniature, Low Profile, LED measurement sockets

Radiometric Sensors

Silicon, Germanium or InGaAs Detectors 

Options include:  UV Enhanced, Miniature, Low Profile, Flat Response, Blue Optimized

LED Measurement Head

Meets CIE Publication 127 Conditions A & B

High Precision and Quick-change mounts

Integrating Spheres

50 mm diameter mini-spheres with 5 mm entrance port

(1) The high accuracy of our photometric sensors begins with our world-class Photopic filters, featuring spectral matching to  f1'< 1%.
Specifications