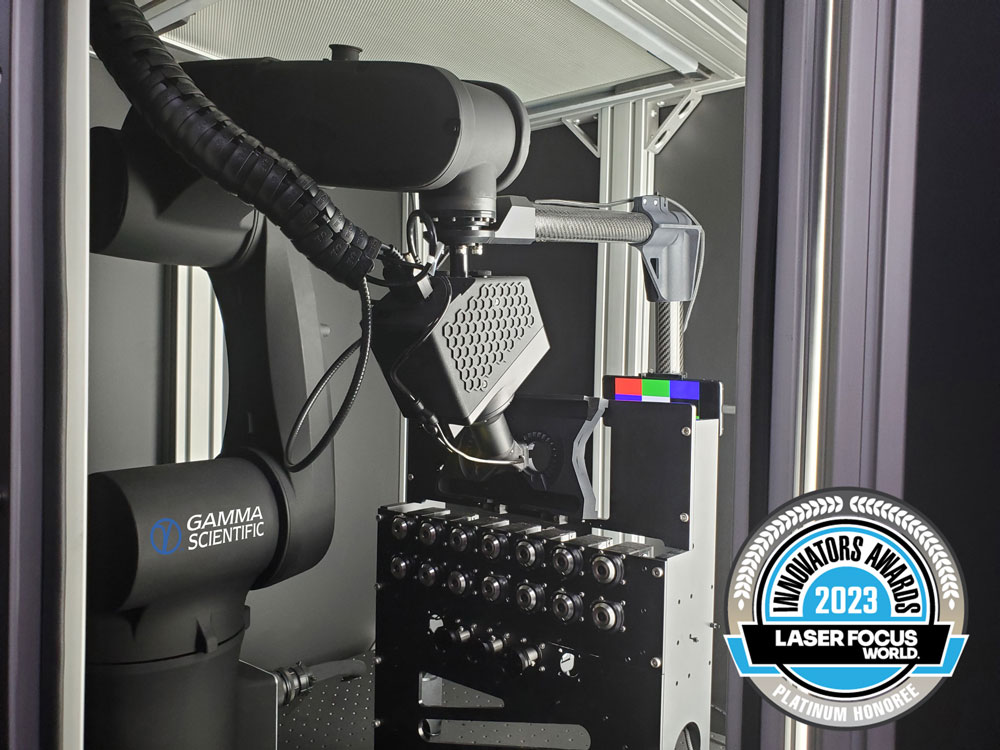 Gamma Scientific Wins Platinum in 2023 Laser Focus World Innovators Awards
San Diego, California, August 17, 2023 – Gamma Scientific, a global leader in optical metrology, announced today that its NED™ Rx-Series, the world's first prescription testing solution for augmented reality (AR) and virtual reality (VR) applications, was recognized as a Platinum Honoree by the 2023 Laser Focus World Innovators Awards.

"We are excited to receive the highest level of recognition for our NED Rx by such an esteemed panel of judges from the optics and photonics community", said Sonika Obheroi, Product Manager of AR/VR test solutions at Gamma Scientific. "Receiving platinum honoree status further propels our industry leadership momentum. We recognize that AR/VR has the potential to be as ubiquitous as sunglasses; the only way to achieve this is to ensure that all AR/VR devices, with or without prescription, are tested to the same exacting standards. Our NED Rx is the only solution that will make this possible."

"On behalf of the Laser Focus World Innovators Awards, I would like to congratulate Gamma Scientific on their Platinum-level honoree status," said Laser Focus World Group Publisher Peter Fretty. "This competitive program allows Laser Focus World to celebrate and recognize the most innovative products impacting the photonics community this year."

The NED™ Rx is the world's first AR/VR testing solution to measure both a see-through mode, testing prescription quality against a real-world target, and an augmented mode, characterizing the AR image as projected through a prescription eyepiece. NED™ Rx allows manufacturers to fully characterize their devices by accommodating a broad range of human vision corrections, including astigmatism, nearsightedness (myopia), and farsightedness (hypermetropia). Learn More

Gamma Scientific's NED™ solutions conform to the latest standards developed and in process by the IEC TC110 and SID, including ongoing contributions to the International Committee for Display Metrology (ICDM), part of SID's Definitions and Standards Committee, charged with setting standards for AR/VR display metrology.

About Laser Focus World
Published since 1965, Laser Focus World has become the most trusted global resource for engineers, researchers, scientists, and technical professionals by providing comprehensive coverage of photonics technologies, applications, and markets. Laser Focus World reports on and analyzes the latest developments and significant trends in both the technology and business of photonics worldwide — and offers greater technical depth than any other publication in the field.

About Gamma Scientific
For over 60 years, Gamma Scientific has delivered trusted measurement solutions for manufacturers and users of light sources, image sensors, and displays. The company participates with international standards organizations and National Metrology Institutes to deliver high-precision, state-of-the-art optical radiation, testing, measurement, and calibration solutions from research and design through volume production. Gamma Scientific operates a USA-based ISO 17025, NVLAP-accredited laboratory for calibration and testing.