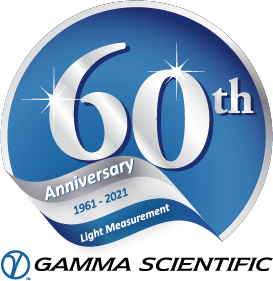 June 10, 2021 – San Diego, CA – Gamma Scientific marks their 60th anniversary of providing innovative and accurate light measurement solutions. The founders' vision was to furnish customers with instruments dedicated to accuracy, versatility, and ease of operation in light measurement.
This vision by the founders has led Gamma Scientific to develop accurate and repeatable light measurement products that provide insight into how our human eyes will convey light. By leveraging knowledge and technology Gamma Scientific is an established leader in light measurement solutions developing test and measurement systems for optical radiation, including displays ranging from large TVs to cell phones to AR/VR, glass reflectance, night vision, cameras, image sensor applications, and roadway safety.
By developing solutions for light measurement in accordance with accredited industry standards, Gamma Scientific ensures measurement accuracy, international acceptance of values and compliance for ISO/IEC certifications.
Customers are empowered with immediate insight into their products with off-the-shelf measurement solutions, as well as customized systems for personalized needs.
Looking towards the future Gamma Scientific is excited to meet growing technologies with expertise and experience furthering development of light measurement solutions to provide companies, manufacturers and contractors with testing efficiencies, product optimization, and decreased costs.
---
For 60 years, Gamma Scientific has delivered highly unique, state-of-the-art measurement solutions for manufacturers and users of light sources, sensors and displays.  Products include high precision spectroradiometers, calibration light sources, goniophotometers, integrating spheres, thin film measurement systems, and LED testers and sorters.  The company also operates an ISO 17025, NVLAP accredited laboratory for calibration and testing.