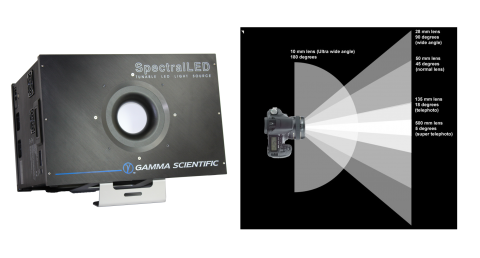 June 28, 2019 – San Diego, CA – Gamma Scientific announces the release of its SpectralLED® RS-7-6 Wide Field of View, uniform intensity light source.  Ideally suited for sensor testing applications requiring a field of view up to 180°, the product's unique optical design delivers equal radiance over the entire field, which is critical for users desiring flat fielding fisheye or ultra-wide FOV designs. With more than 97% uniformity across the 75mm output, the performance is unmatched in the industry.
The standard configuration includes firmware with full spectral calibration and spectral fitting, preset storage, real-time optical feedback and wavelength monitoring. The system is well-suited for calibration and testing of cameras and image sensors, while also allowing the determination of quantum efficiency, spatial non-uniformity, pixel defects, crosstalk, responsivity, linearity and sensitivity.  With up to 35 discrete wavelengths for synthesis of commercially available light sources such as CIE Illuminants A, B, C, D50, D55, D65, D75, E, F1-F12 or based on spectral profiles that you import, the product is ideally suited for production line or laboratory testing.
---
For over 50 years, Gamma Scientific has delivered highly unique, state-of-the-art measurement solutions for manufacturers and users of light sources, sensors and displays.  Products include high precision spectroradiometers, calibration light sources, goniophotometers, integrating spheres, thin film measurement systems, and LED testers and sorters.  The company also operates an ISO 17025, NVLAP accredited laboratory for calibration and testing.