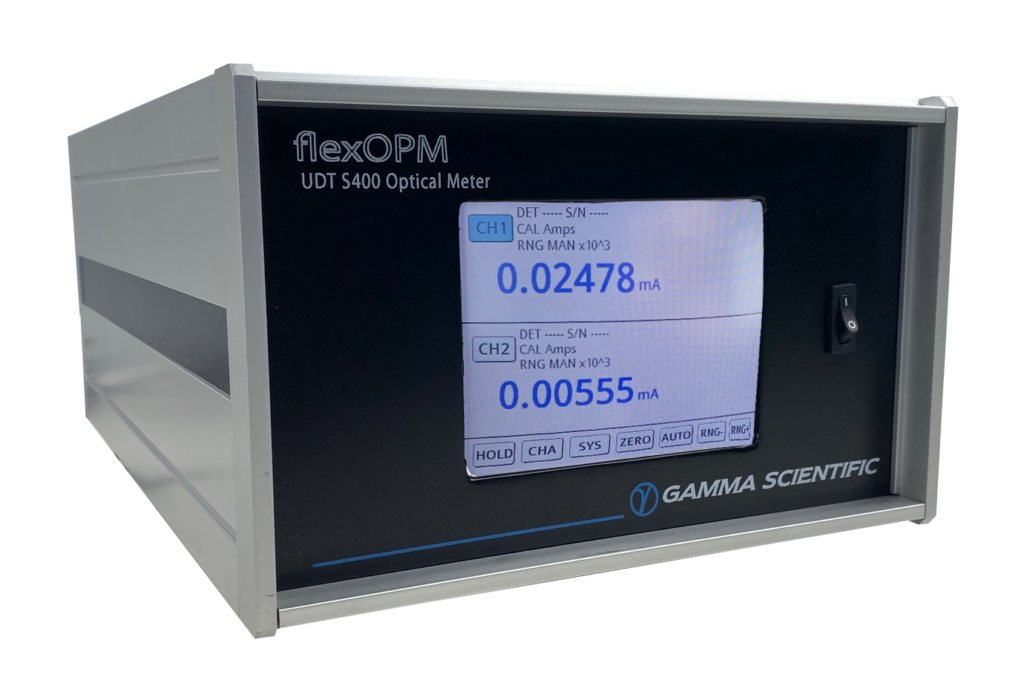 November 7, 2019 – San Diego, CA – Gamma Scientific announces the release of its re-designed flexOPMTM UDT S400 Benchtop Optical Meter. It is ideal for photometric, radiometric, laser power, and fiber optic measurements. It features a wide dynamic range with high accuracy measurements, well suited for display measurements, LED measurements, laser power, lamp testing, and strobe & signal measurement. Optional configurations allow up to 4 individually calibrated sensor heads for one meter.
The system features a microprocessor-controlled architecture with USB, RS-232, RS-485, and IEEE-488.2 interfaces. The wide range of available sensor configurations allow for measurement of luminous flux, illuminance, luminous intensity and luminance. All products feature NIST traceable calibration, carried out in our ISO 17025 NVLAP accredited laboratory (NVLAP lab code 200823-0).
---
For over 50 years, Gamma Scientific has delivered highly innovative, state-of-the-art and award-winning measurement solutions for manufacturers and users of light sources, sensors and displays.  Products include high precision spectroradiometers, calibration light sources, goniophotometers, integrating spheres, thin film measurement systems, and LED testers and sorters.  The company also operates an ISO/IEC 17025, NVLAP accredited laboratory (NVLAP Laboratory code 200823-0) for calibration and testing.
Contact:
Brock Koren
Vice President, Sales and Marketing