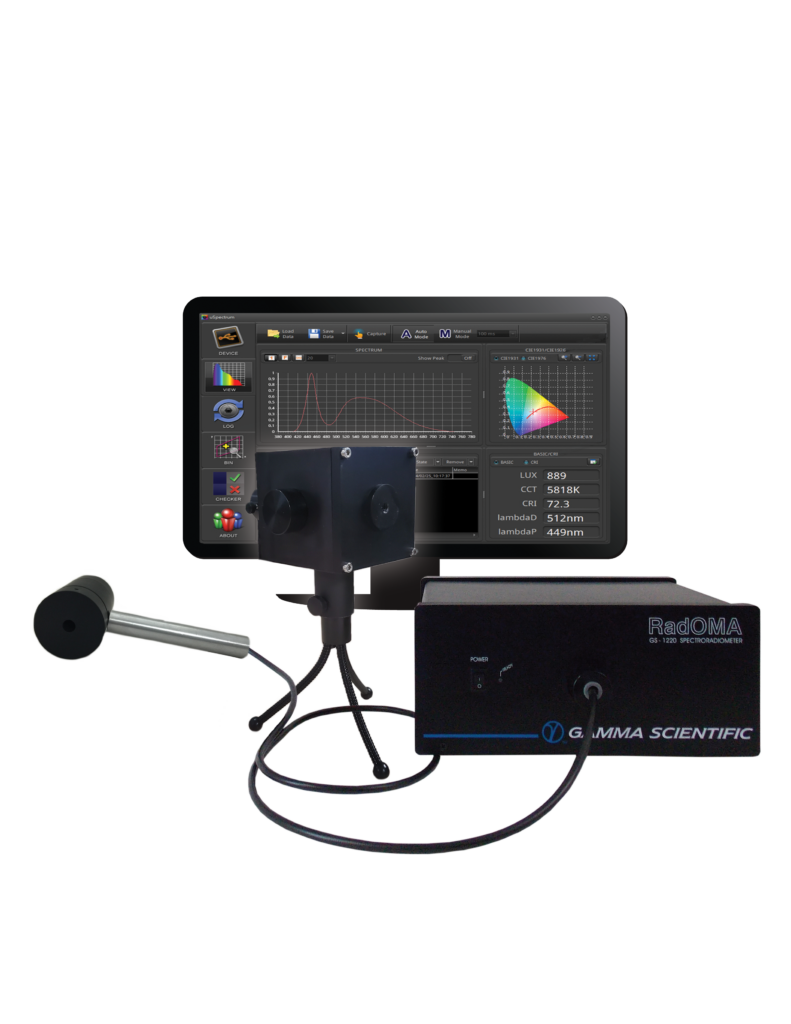 July 10, 2020 – San Diego, CA – Gamma Scientific announces the release of its Blue Light Hazard testing system. The system utilizes the RadOMA GS-1220 spectroradiometer coupled with an aperture or integrating sphere depending on customer measurement requirements, offering evaluation and classification of displays and luminaires according to IEC 62471 and IEC/TR 62778.
The system provides a spectral range from 300 nm to 700 nm with integrated software for fast, accurate, and repeatable measurements. Risk group classifications range from Exempt to High Risk (Group 3). Leveraging over 50 years of industry experience, our state-of-the-art spectroradiometer has the highest dynamic range in array-type sensor design on the market, with viewing angles ranging from 0.1° to 5° and a polarization error less than 1%, reducing uncertainty while increasing accuracy and repeatability. Each Blue Light Hazard Testing system is calibrated in our NVLAP accredited laboratory (NVLAP lab code 200823-0) using NIST-traceable standards to ensure continued accuracy and reliability. To learn more, visit our website: https://www.gamma-sci.com/application/blue-light-hazard-testing
---
For over 50 years, Gamma Scientific has delivered highly unique, state-of-the-art measurement solutions for manufacturers and users of light sources, sensors and displays.  Products include high precision spectroradiometers, calibration light sources, goniophotometers, integrating spheres, thin film measurement systems, and LED testers and sorters.  The company also operates an ISO 17025, NVLAP accredited laboratory for calibration and testing.