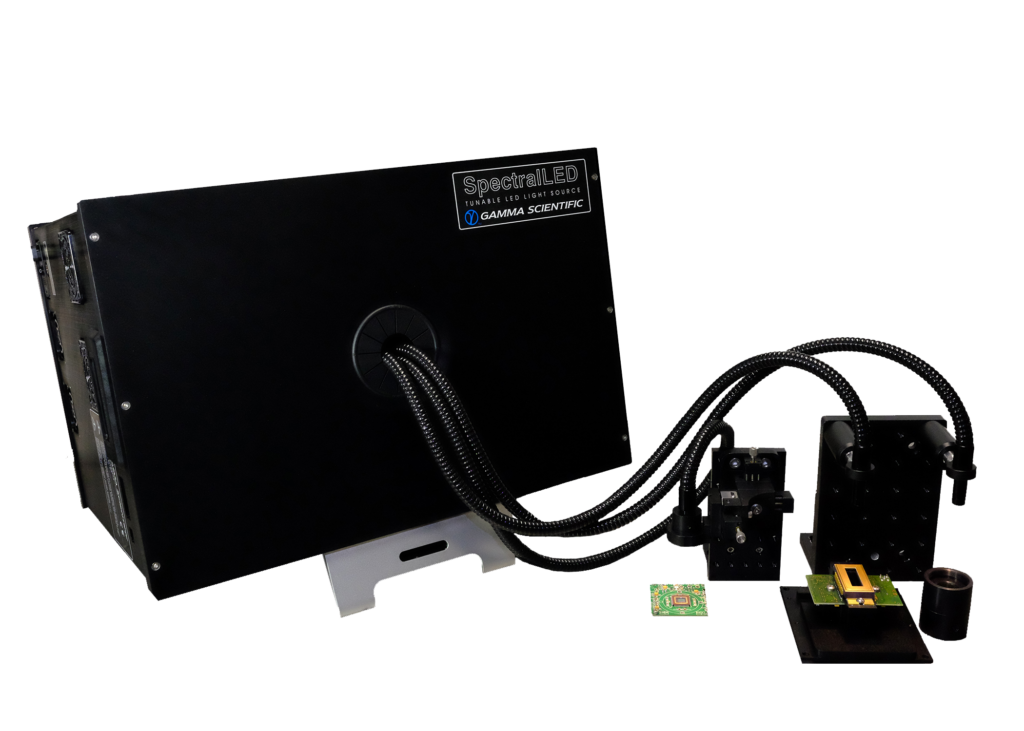 August 16, 2018 – San Diego, CA – Gamma Scientific announces the release of its SpectralLED® RS-7-3 platform. The products incorporate 35 LED wavelengths for synthesis of commercially available light sources such as CIE Illuminants A, B, C, D50, D55, D65, D75, E, F1-F12 or based on spectral profiles that you import. 
Ideal for applications such as Fluorescence Excitation, Medical Imaging or an all solid-state alternative to lamp-based illuminators such as Xenon or Halogen, the product line features a spectral range from 380 to 1,000 nm with illumination stability greater than 99.99%.  The illumination accuracy is NIST traceable to better than ± 3% with full scale linearity better than 0.1% RMS.  Through its 16-bit DAC current drivers, users can achieve up to 5 decades of dynamic range adjustment with wavelength monitoring and a spectral accuracy greater than ± 1 nm. The firmware includes full spectral calibration with spectral fitting and storage of presets.
The standard configuration includes 4 output fibers with a diameter of 6.35mm and a 0.55 NA, thus allowing for multiple test instances to be carried out simultaneously.  The product family also features  numerous configuration possibilities including custom and OEM options.