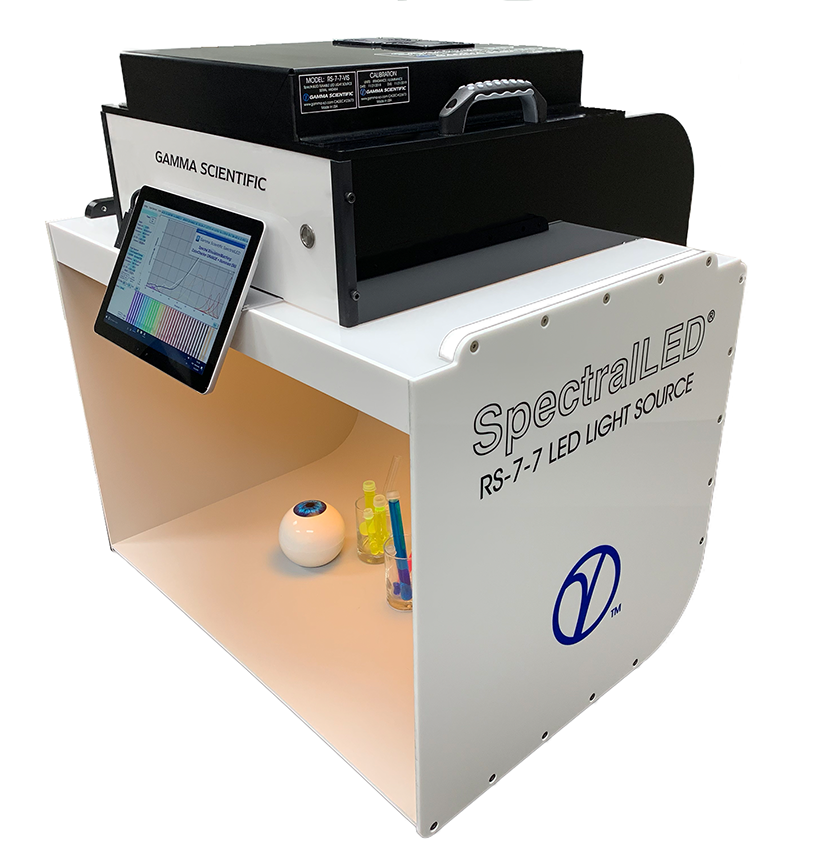 November 28, 2018 – San Diego, CA – Gamma Scientific announces the release of its upgraded SpectralLED® RS-7-7 platform. The all solid-state tunable light source incorporates 35 LED wavelengths for synthesis of commercially available light sources such as CIE Illuminants A, B, C, D50, D55, D65, D75, E, F1-F12 or based on spectral profiles that you import. 
Ideal for characterization of color rendering versus ambient lighting conditions, color analysis and optimization, the product line features a spectral range from 380 to 1,000 nm with illumination stability greater than 99.99%.  The illumination accuracy is NIST traceable to better than ± 3% with full scale linearity better than 0.1% RMS.  Through its 16-bit DAC current drivers, users can achieve up to 5 decades of dynamic range adjustment with wavelength monitoring and a spectral accuracy greater than ± 0.25nm.
The standard configuration incorporates a controller and all software for full spectral calibration with spectral fitting, preset storage and real-time optical feedback in either photometric or radiometric units. USB drivers for Windows, OSX and Linux platforms are included, and external interface and control can be easily achieved via simple ASCII commands.  Custom configurations are also available.  For more information, please see https://www.gamma-sci.com/products/rs-7-7-light-booth.
---
For over 50 years, Gamma Scientific has delivered highly innovative, state-of-the-art and award-winning measurement solutions for manufacturers and users of light sources, sensors and displays.  Products include high precision spectroradiometers, calibration light sources, goniophotometers, integrating spheres, thin film measurement systems, and LED testers and sorters.  The company also operates an ISO/IEC 17025, NVLAP accredited laboratory (NVLAP Laboratory code 200823-0) for calibration and testing.
Contact:
Brock Koren
Vice President, Sales and Marketing