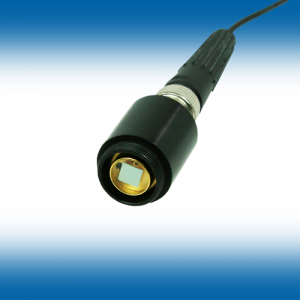 The model 261 radiometric sensor is our miniature series Germanium sensor.  It can be adapted for use with Miniature Series integrating spheres and other accessories. 
Our wide range of optical power meters, photometric and radiometric sensors is complemented by ISO/IEC 17025 accreditation by NVLAP (NVLAP lab code 200823-0), resulting in unmatched performance and custom configuration as required.
Specifications
Key Specifications                                       Part No. U23-01-178

Key Features

Well suited to telecommunication wavelengths

Detector Information

Germanium  0.50 cm2 active area

Rise Time

4 µ sec

Dynamic Range

5.0 x 10-10 to 6.0 x 10-3 W

Typical Response

7.6 x 10-1 A/W @ 1300 nm

Calibration Range

800 to 1750 nm in 10 nm steps

Cable

2 meter, included

Compatible with the UDT Handheld and Benchtop series Optical Meters & Integrating Spheres (with 1718 adaptor).

Specifications are subject to change without notice.