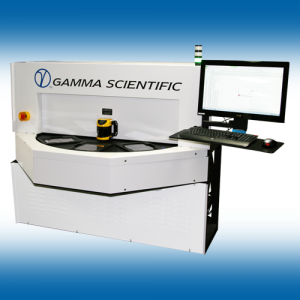 This fully automatic gonio-reflectance measurement system automatically captures complete spectral & colorimetric properties at 0° and 45° angle of incidence simultaneously, for coated glass, polished substrates or diffuse surfaces without requiring second-surface masking. Substrates as thin as 500 µm can be tested with typical scan times of 200 msec per measurement point. 
Based on high precision spectroradiometric instrumentation,  proprietary measurement techniques and expertise in low-light measurement technology developed by Gamma Scientific, the product range features industry-leading accuracy, repeatability and throughput, including both refractive index determination and thin film coating thickness.
Applications
Anti-reflectance coating characterization
Flat-panel display glass testing
Touchscreen display glass testing
Optical filter / lens testing
Pyrolytic glass coating test & characterization
Characterization of flat panel displays, photovoltaic coatings, low-E architectural coatings, paint samples and diffuse plastics
Overview
Highly Accurate & Repeatable Reflection Measurements
Nondestructively capture complete spectral and colorimetric properties with scan times as short as 200 msec per measurement point
Isolated first-surface measurement of thin glass substrates down to 500 µm in thickness without requiring second-surface masking
Measure total reflectance or isolate internal optical interfaces
Test capability for diffuse or specular surfaces
Programmable, multi-location measurement, pass/fail criteria settings and binning capabilities
Configuration options including handheld, semi-automatic and fully automatic rotary systems with robotic loading
In addition to our exceptional technical and functional capabilities, Gamma Scientific is ISO/IEC 17025 accredited by NVLAP (NVLAP lab code 200823-0).
Specifications