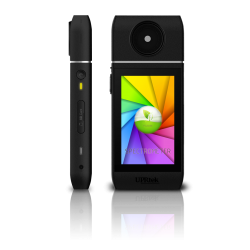 January 10, 2020 – San Diego, CA – The agricultural industry is facing many challenges including feeding a growing population, and providing quality ingredients and livelihood for farmers. They need solutions to help improve nutrient content and yields, decrease the amount of energy needed for production, and help crops perform their best in indoor conditions. One of the key components in meeting these challenges is having a detailed picture of lighting conditions to optimize crops, including efficiency, spectral properties, aging affects, fixture spacing and optimal working distances.
Gamma Scientific's PG200N Spectral PAR Meter is designed specifically for horticultural and agricultural applications. The lightweight, portable and easy-to-operate meter is an interactive system with a high-resolution color touchscreen display and intuitive menu. Analytical reporting for spectrum, PPFD, PFD, auto-monitoring, and UVA to the near-infrared can be measured helping to understand ambient light conditions for plant growth and the adjustment of artificial light sources to efficiently control production, safety, and yield. One-time or continuous data measurements are saved with downloads via SD card, USB port or Wi-Fi mode providing data tracking and analysis over time with Excel and JPG reporting formats standard.
A detachable sensor head for optimal positioning and remote measurement provide versatility, along with an operating time of up to five hours.
The PG200N complies with JIS AA, DIN B Class illumination standards, NIST traceable calibration, and IP66 level NIST traceable calibration, carried out in our ISO 17025 NVLAP accredited laboratory.
For over 50 years, Gamma Scientific has delivered highly innovative, state-of-the-art and award-winning measurement solutions for manufacturers and users of light sources, sensors and displays.  Products include high precision spectroradiometers, calibration light sources, goniophotometers, integrating spheres, thin film measurement systems, and LED testers and sorters.  The company also operates an ISO/IEC 17025, NVLAP accredited laboratory (NVLAP Laboratory code 200823-0) for calibration and testing.