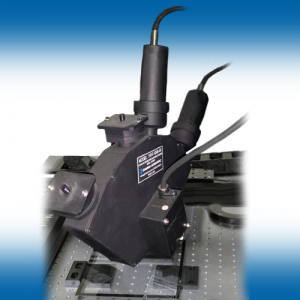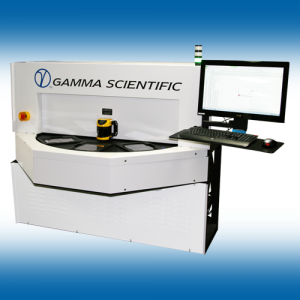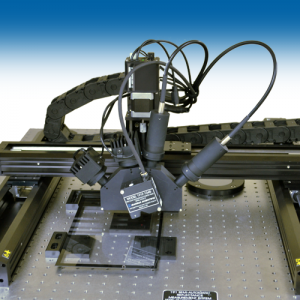 Diffuse Reflectance Spectroscopy Instruments for Measuring Virtually Any Sample
Gamma Scientific provides unique, high-performance solutions for reflectance and transmission testing. These reflectivity measurement devices and light transmission testing systems capture complete spectral and colorimetric properties of thin film coatings with scan times typically less than one second. Uniquely, the 191F Specular Reflectometer can non-destructively measure first-surface reflectance on transparent substrates up to 0.3mm thick, with 100% exclusion of backside reflectance and no backside preparation or additional interference. Second-surface or second layer intermediate reflectance can also be characterized on intermediate surfaces by excluding reflectance from other surfaces within the substrate.
Our diffuse reflectance spectroscopy instruments are available in several configurations, optimized for the sample type and desired measurement result, including either polished (specular) or rough (diffuse) samples. The below product selection guide will help you configure the best system to fit your needs.
Applications
Anti-reflectance coating characterization
Flat-panel display glass testing
Touchscreen display glass testing
Optical filter / lens testing
Pyrolytic glass coating test & characterization
Characterization of flat panel displays, photovoltaic coatings, low-E architectural coatings, paint samples and diffuse plastics
Custom Solutions
The vast majority of our Display Measurement Solutions are custom-configured.
Installation and commissioning is option, though for the automated systems, highly recommended.
Product Selection Guide
191F Series models are available in handheld, tabletop, semi-automatic and fully automatic configurations.
191F Series models have a fixed AOI as indicated above.  A handheld unit with 10-45º variable AOI is available under model number 191C.
191 T and 191 DR Series units are available in tabletop models only.
191 Series Optical Heads Specification Comparison Table
191 Series Optical Heads
191F
191T
191C
191DR
Measurement Type
Specular Reflection
or Total Reflection
Total Transmission
Specular Reflection
Diffuse Reflection
Sample Types
Glass, Plastic, Metal,
Polished Substrates
Glass, Plastic,
Transmissive Elements
Glass, Plastic, Metal,
Polished Substrates
Opaque Materials,
Matte Surfaces,
Rough Substrates
Illumination Angle
Fixed Angle at
0°, 10°, 20°, or 45° or
Dual Angle 10° & 45°
0°
10° to 45° Variable
45°
Viewing Angle
Matches Selected Illumination
Angle
2π (180°)
10° to 45° Variable
45°
System Configuration
Handheld, Tabletop,
Semi-Automatic, Fully Automated
Tabletop
Handheld
Tabletop (Sphere Based)
Minimum Sample Thickness
Dependent on Angle
(transparent samples)
None
(transparent samples)
1.5mm (transparent samples)
None (opaque samples)
None (opaque samples)
Spectral Range
365nm-900nm (default)
UV / IR Options
Available
365nm-900nm (default)
UV / IR Options Available
365nm-900nm
365nm-900nm
UV / IR Options Available
Illumination Spot Size
(Area of Analyis)
1mm x 10µm
Ø 1mm, Ø 2mm, or
Ø 3mm
1mm x 65µm
Ø 1mm, Ø 2mm, or
Ø 3mm
Typical Measurement Speed
(Sample Dependent)
≈500-1000ms
≈1000-3000ms
≈2000-15000ms
≈1000-3000ms
Optical Head Dimensions
Varies Depending
on Model/Angle
Height: 350mm (13.75″)
Width: 205mm (8.0″)
Depth: 225mm (8.85″)
Weight: 3.5kg (7.75lbs)
Height: 230mm (9″)
Width: 150mm (6″)
Depth: 150mm (6″)
Weight: 1.6kg (3.5lbs)
Height: 300mm (12″)
Width: 1000mm (40″)
Depth: 300mm (12″)
Weight: 12kg (25lbs)
Accuracy
Spectral Reflectance/
Spectral Transmission
± 0.2%
± 0.5%
± 0.5%
± 0.5%
Tristimulus
(CIE 1931 X, Y, Z)
± 0.05
± 0.05
± 0.05
± 0.05
Chromaticity
(CIE 1931 x,y)
± 0.002
± 0.005
± 0.005
± 0.005
LAB Color
(CIE 1976 L*, a*, b*)
L* ± 1.0 a*, b* ± 0.8
L* ± 2.0 a*, b* ± 0.8
L* ± 2.0 a*, b* ± 0.8
L* ± 2.0 a*, b* ± 0.8
Reported Parameters
Spectral Data
Reflectance/Transmission as a function of wavelength
Colorimetric Data
CIE Tristimulus X, Y, Z, with 2° or 10° View Angle, (L*, a*, b*), (x, y), (u', v'), and other parameters
Illuminant Weighting
Illuminant A, Illuminant B, Illuminant C, Illuminant D65, or User Specified Custom Illuminant
Specifications are subject to change without notice.
Technology Overview
Technology
Gamma Scientific Model 191 Series Reflectometer Heads isolate the first surface reflection
The second surface is completely eliminated in a non-destructive manner
Light reflecting off each surface will be slightly offset
This offset is used to mechanically block light reflected off lower surfaces
Videos