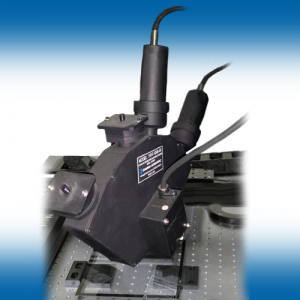 The 191F Reflectance Measurement Heads are available in fixed angle of incidence configurations ranging from 0 to 45º.  A handheld unit with variable angle of incidence is also available, please contact us for further details.  The models are capable of first surface or total specular reflection on glass, plastic, metal or polished substrates, and can be used with sample sizes as thin as 0.15 mm. The spectral range is from 365nm to 1100 nm.
Overview
Highly Accurate & Repeatable Reflection Measurements
Nondestructively capture complete spectral and colorimetric properties with scan times as short as 300 msec per measurement point
Isolated first-surface measurement of thin glass substrates down to 0.15mm in thickness without requiring second-surface masking
Measure total reflectance or isolate internal optical interfaces
Test capability for first surface and specular surfaces
Configuration options including handheld, semi-automatic and fully automatic rotary systems with robotic loading
In addition to our exceptional technical and functional capabilities, Gamma Scientific is ISO/IEC 17025 accredited by NVLAP (NVLAP lab code 200823-0).
Specifications