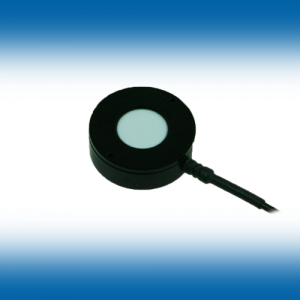 The model 268UVA is a low-profile sensor designed for applications with limited mechanical clearance. The unit is optimized for 365nm measurement in the UVA portion of the spectrum (320-400 nm) via an integrated filter, and provides Irradiance measurements in W/cm2.
Our wide range of optical power meters, photometric and radiometric sensors is complemented by ISO/IEC 17025 accreditation by NVLAP (NVLAP lab code 200823-0), resulting in unmatched performance and custom configuration as required.
Specifications
Key Specifications                                           Part No. U23-01-208

Key Features

Irradiance measurement in W/cm2

Detector Information

Silicon    1 cm2 active area

Rise Time

3 µsec

Aperture Diameter

17.8 mm

Dynamic Range

5.0 x 10-10 to 1.0 x 10-1 W/cm2

Typical Response

2.0 x 10-2A/W/cm2 @ 365 nm

Cable

Integral, 1.5 meter BNC

Compatible with the UDT Handheld and Benchtop series Optical Meters.

Specifications are subject to change without notice.