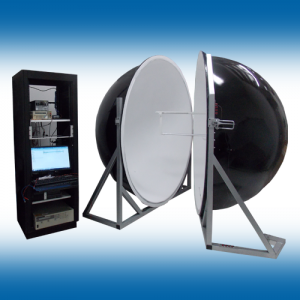 The GS-1220-FLUX-80 Total Flux Measurement System combines our high performance RadOMA GS-1220 spectroradiometer platform and a 3-port, 2-meter diameter integrating sphere.  The system includes our Light Touch LED software, Light Touch Controller and a 2m flexible fiber optic coupler. Optimized for quality control and high speed LED testing applications, optical integration times range from 2 µsec to 3 seconds. 
Overview
Specifications
Optional Accessories
Overview
Precision-matched Measurement Solutions
NIST-traceable system calibration for accurate, reproducible results
High-speed LED testing with integration time from 2 µsec to 3 seconds
Exceptional dynamic measurement capability for high and low light intensities
Temperature controlled sensors for superior repeatability
Windows® based control / analysis software integration with Excel® integration
Available on-site installation and training
Measures lumens, total power, color parameters such as λp, λd, CIE x,y, HPBW, CRI, CCT
In addition to our exceptional technical and functional capabilities, Gamma Scientific is ISO/IEC 17025 accredited by NVLAP (NAVLAP lab code 200823-0).
Specifications
Optional Accessories