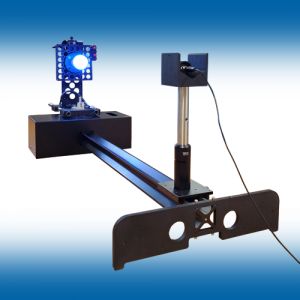 The 940 LED-200 Series Goniometer is optimized to provide precise measurement of angle dependent spatial radiation properties of LEDs and small luminaires, accommodating sample sizes up to 200 mm in diameter.
940 LED Goniometers can be combined with a Gamma Scientific Spectroradiometer or UDT Series photometer depending on your specific measurement needs. Combining the goniometer with a spectroradiometer allows for measurement of luminous flux, color coordinates and CRI. Connecting the goniometer to a photometer provides fast measurements of spatial light distribution.
Applications
Rapid, precise characterization of spatial light distribution
Accurate measurement of LED luminaires, lamps and modules
Models optimized for specific sample sizes
Work seamlessly with our spectroradiometers or photometers to measure luminous flux, color coordinates or CRI
Conform with CIE, DIN and IES standards
Overview
Specifications
System Bundles & Options
Videos
Overview
Precision Solutions for Angle Dependent Spatial Radiation Properties
Optimized for precise measurement of LED and LED luminaires
Maximum flexibility; can be seamlessly integrated  with our broad range of spectroradiometers and photometers
Conform to CIE, DIN and IES standards
Our wide range of light measurement instrumentation is complemented by ISO/IEC 17025 accreditation by NVLAP (NVLAP lab code 200823-0), resulting in unmatched performance, traceable standards and highly precise custom calibration options.
Specifications
System Bundles & Options
Videos