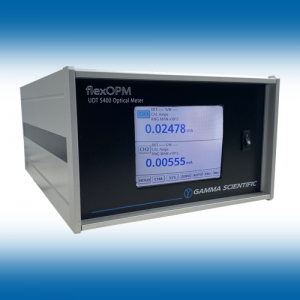 The S400 Optical Meter is our most popular benchtop meter, ideal for photometric, radiometric, laser power, and fiber optic measurements.  Optional configurations include up to 4 individually calibrated sensor heads. This system features a microprocessor controlled architecture with USB, RS-232, RS-485 and IEEE-488.2 interfaces.
Applications
Display Measurement
LED Measurement
Laser Power
Strobe & Signal Measurement
Lamp Testing
Overview
Precision Solutions for Photometric, Radiometric & Laser Power Measurement
Wide dynamic range
High accuracy measurements
Pulse integrator for averaged energy measurements
Precision amplifier with femto-amp level resolution
Sensor Options (1)

Photometric Sensors (2)

Silicon detectors 

Standard, miniature, low profile, and photomultiplier configurations

Radiometric Sensors

Silicon, Germanium or InGaAs detectors 

Standard, miniature, low profile, flat response, UV enhanced, blue optimized, bandpass filtered and photomultiplier

LED Measurement

Sensor assemblies designed to meet CIE Publication 127 Conditions A & B

Integrating Spheres

Standard 150mm spheres and 50mm diameter mini-spheres available

(1) An extensive range of sensors and sensor configurations is available for measurement of power, lux, luminance as well as transimpedance amplifiers and integrating spheres.

(2) The high accuracy of our photometric sensors begins with our world-class Photopic filters, featuring spectral matching to  f1'< 1%.

 
Specifications
Model S400 General Specifications

 Electronic

 8 DC Gain Ranges with automatic and manual ranging; 4 Integration ranges

 Computer Interfaces

 USB, RS-232, RS-485 and IEEE 488.2 . Analog output is also available (± 2.5 Volts)

 Range-to-Range Non-linearity

 < 0.1% typical, < 0.25% for most sensitive range

 Sensitivity

 1.0 x 10-3 to 1.0 x 10-15 Amps            1.0 x 10-3 to 1.0 x 10-14 coulomb

 Resolution

 100 x 10-15 Amps

 Energy Integrator

 Four integration ranges w/ range-to-range linearity better than 0.1% (0.25% for most sensitive range)

 Sensitivity from 1.0 x 10-14 to 1.0 x 10-3 coulomb

 Decay error analog; approximately 0.01% / second

 Digital – holds reading indefinitely

 Dark Current Suppression

 50 nA Max

 Noise

 < 5.0 x 10-15 Amps

 Frequency Roll-off

 < 10 Hz on most sensitive range

 A to D Converter

 24 bit for each decade

 Use with Photomultipliers

 High voltage circuit (300 to 1500 V)

 Ranging

 Automatic or Manual

 Dimensions

 33 cm (13 in) x 22 cm (8.6 in) x 13.5 cm (5.3 in)

 Radiometric Calibration Options

 Radiant flux (W), Irradiance (W/cm2), Irradiant Energy (j/cm2)

 Photometric Calibration Options

 Illuminance (lux or fc), Luminance (cd/m2 or fL), Luminous Intensity (cd), Illuminant Energy (lux*sec)

 Calibration Traceability

 Traceable to NIST with optional ISO/IEC 17025 accreditation

 Relative Humidity

 Up to 99% (non-condensing)

 Regulatory Compliance

 TUV, UL, CSA, CE

 Optional Configurations

 S470 (single channel)        S480 (dual channel)        S485  (three channel)        S490 (four channel)

Specifications are subject to change without notice.
Options
Model S470     Single Chanel   Part Number 51691
Model S480     Dual Channel   Part Number 51692
Model S485     Three Channel  [Contact Factory]
Model S490     Four Channel Part Number 51694
Please see Sensors page for sensor options.