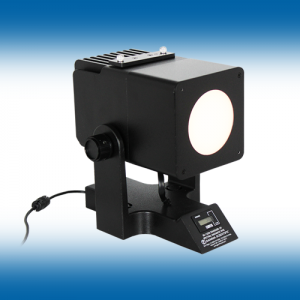 The RS-12D Series consists of NIST Traceable sources that can be used as white light standards of spectral radiance or luminance. 
The base unit is supplied as a calibrated source, with calibration options including ISO 17025 calibration at maximum luminance, calibration at a user-specified Footlambert value, or via insertion of an optional filter/aperture assembly, can be incorporated into an NVIS display measurement system (please refer to model RS-12DN NVIS).
Full calibration, along with the appropriate calibration certificate is supplied with designated units, based on the requested option.
Applications
Sensor testing and calibration
Calibrate spectroradiometers, radiometers and photometers
Calibrate detector responsivity
Measure reflectance and transmittance
Overview
Robust, Reliable and Traceable Calibration Solutions
Standard of spectral radiance and luminance
Correlated color temperature of 2856 K ±25 K
3-inch diffuse exit diameter with ±3% uniformity
NIST Traceable
Optional calibration in Footlamberts
ANVIS output with 10c and 10AR options
Specifications
RS-12D  Calibration Light Source

Calibrated Wavelength Range @ Data Interval

380-1100 nm @ 5 nm

Nominal Radiance of Diffuser

2.5 x 10-8 W/cm2*nm*sr at 380 nm

3.0 x 10-6 W/cm2*nm*sr at 550 nm

9.5 x 10-6 W/cm2*nm*sr at 800 nm

1.2 x 10-5 W/cm2*nm*sr at 1100 nm

Nominal Luminance of Diffuser

2398 cd/m2

700 fl (n-1 · cd/ft2)

Correlated Color Temperature (CCT)

2856 ± 25K

Uniformity of Diffuser

±3% over 65 mm

NIST Standards of Irradiance Output Uncertainty

±2.5%

Size

197 mm (7.8 in) L x 216 mm (8.5 in) W x 203 mm (8.0 in) H          2.8 kg (6.25 lb)

Regulator Type

Constant current

Output Current

4A maximum

Current Accuracy, Long Term

Better than 0.5%

Temperature Range

15°C to 35°C

If NVIS display testing is required (ANVIS Radiance), please refer to model RS-12DN NVIS. Custom calibration options available.

Specifications are subject the change without notice.
Options & Accessories
Options and accessories include a power brick, ND-filters and different sized apertures which allows users to order lamp with specific output data