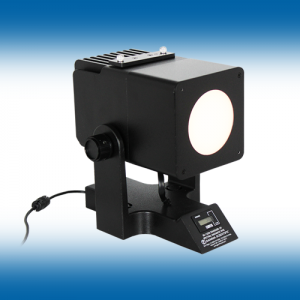 The RS-12D Series consists of NIST Traceable sources that can be used as white light standards of spectral radiance or luminance. 
The base unit is supplied as a calibrated source, with calibration options including ISO 17025 calibration at maximum luminance, calibration at a user-specified Footlambert value, or via insertion of an optional filter/aperture assembly, can be incorporated into an NVIS display measurement system (please refer to model RS-12DN NVIS).
Full calibration, along with the appropriate calibration certificate is supplied with designated units, based on the requested option.
Applications
Sensor testing and calibration
Calibrate spectroradiometers, radiometers and photometers
Calibrate detector responsivity
Measure reflectance and transmittance
Overview
Robust, Reliable and Traceable Calibration Solutions
Standard of spectral radiance and luminance
Correlated color temperature of 2856 K ±25 K
3-inch diffuse exit diameter with ±3% uniformity
NIST Traceable
Optional calibration in Footlamberts
ANVIS output with 10c and 10AR options
Specifications
Options & Accessories