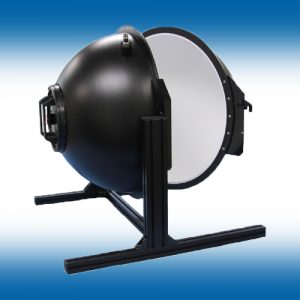 Our LM-Series integrating spheres are optimized for light measurement applications, and include both standard and one-of-a-kind custom solutions, ranging from 25 mm to 2 meters in diameter. Access options include hinged and sliding rail opening.
The products can be coupled with our full range of light measurement instrumentation including spectroradiometers, photometers and radiometers – or coupled with a light source for uniform intensity output. 
Gamma Scientific is an ISO17025 accredited calibration facility (NVLAP lab code 200823-0).
Applications
LED and SSL Lighting Test & Characterization
Lamp Test and Characterization
Laser Power Measurement
Fiber-Optic Testing
Photometric and Radiometric Measurements
As a Uniform Light Source
Overview
Specifications
Coating Options
Options & Accessories
Overview
Accurate, Flexible Light Measurement Solutions
Options for Total Luminous Flux Measurements
Options for Optical Power Measurements
Couple with our SpectralLED® Light Sources for Highly Uniform Light Output with up to 600mm Port Size
Hinged and Sliding Rail Opening Options
Light-tight Closure & Internal Baffles
Lightweight and Rugged Coatings from the UV through the NIR
Ask about custom configurations, including integrated light measurement solutions
Specifications
Coating Options
Options & Accessories