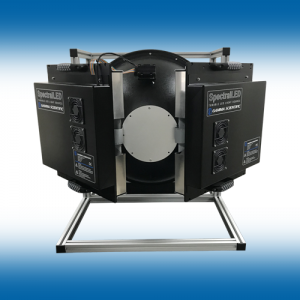 When you require a large area, highly uniform light source for camera and image sensor calibration, the SpectralLED® VIS SWIR Tunable Light Source delivers brightness, radiometric stability and wavelength accuracy that is unmatched in the industry.
The SpectralLED Tunable Light Source incorporates up to 31 discrete visible wavelengths and 10 shortwave infrared wavelengths for synthesis of commercially available light sources or based on spectra that you import. The platform is easily adaptable for automated test systems and production line integration, with integrated optical feedback and temperature control to ensure rock-solid stability and consistent results.
Applications
Camera and image sensor calibration
Photodiode detector responsivity characterization
Diagnostic medical imaging
Technical and industrial imaging
Overview
Unprecedented Resolution and Accuracy For Camera & Image Sensor Calibration
Wavelength options from the UVA to the shortwave infrared
Built-in RMA spectral fitting for simulation of user imported spectra
Constant current drivers & built-in optical feedback ensure accurate & flicker-free output in real time
All solid-state design for rapid start-up, repeatable performance and long operating lifetime
ISO/IEC 17025 accredited by NVLAP (NVLAP lab code 200823-0) for calibration accuracy
 
Specifications
RS-7-2 VIS SWIR General Specifications
Source Geometry
 150 mm diameter uniform output, Lambertian radiant source (Other output port sizes available on request)
Spatial Uniformity
 ≥ 98% over 8° field of view
Optical Geometry
 Integrating sphere at 500 nm diameter (Other sphere sizes available on request)
  Optical Specifications
Spectral Range
 380 nm to 1,700 nm  (Custom ranges available on request)
Spectral Output
 28 VIS discrete LED channels, 3 broadband LED channels, 10 SWIR LED channels Visible resolution ~ 15 nm SWIR resolution ~ 50 nm (typical channel spacing
Spectral Bandwidth
 Typical VIS of 20nm and NIR of 50nm FWHM Typical SWIR of 50-100nm FWHM (channel dependent)
Radiance Range
 Typical maximum of 15,000 μW / cm2 / sr Typical minimum of 15 μW / cm2 / sr
Luminance Range
 Typical maximum of 30,000 cd / m2 (spectrum dependent) Typical minimum of 30 cd / m2
CCT Range
 1,900K to 40,000K
Preset Spectra
 CIE illuminants A, B, C, D50, D55, D65, D75, E, F1-F12
Custom Preset Spectra
 Configurable at time of order via API. Contact factory for details
  Accuracy Specifications
Illumination Stability
 ≥ 99.99% after 50 ms for radiance or after 2,000 ms for spectrum
Illumination Accuracy
 ± 1% (VIS) NIST traceable, 5% (SWIR)
Spectral Accuracy
 ± 1 nm (VIS), 2.5 nm (SWIR) centroid wavelength
Color Accuracy
 CIE 1931 x,y ± 0.003 (VIS)
Linearity
 < 0.1 % RMS of full scale
Specifications are subject to change without notice
Options
The Wavelength Monitor System is a multi-channel photodiode system which provides amplitude feedback and real-time wavelength measurements. It consists of three photodiodes each with an independent transimpedance amplifier circuit. Proprietary optical filtering techniques allows for wavelength accuracy of +/-0.25nm and repeatability of +/-0.05nm. The Wavelength Monitor PCBA, photodiodes, and optical filter assembly is temperature stabilized using a Peltier cooler and thermistor in a PID feedback loop. This assembly is a discrete module which can be used with any RS-7 model.
Please contact us with your custom & OEM requirements