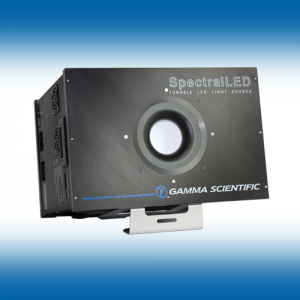 The SpectralLED® Wide Field of View (FOV) uniform light source is ideally suited for applications requiring a field of view up to 180°. The unique optical design delivers equal radiance over the entire field, with better than 95% uniformity over the entire 180° field of view, the performance is unmatched in the industry.
The SpectralLED Tunable Light Source incorporates up to 35 discrete wavelengths for synthesis of commercially available light sources or based on spectra that you import. The platform is easily adaptable for automated test systems and production line integration, with integrated optical feedback and temperature control to ensure rock-solid stability and consistent results.
Applications
Fish-eye camera calibration & test
Wide field of view camera calibration & test
Spectrum / illuminant simulation
Diagnostic medical device test and characterization
Overview
Specifications
Options
Overview
Unprecedented Resolution & Accuracy
All solid-state design for rapid start-up, repeatable performance and maximum up-time
Built-in RMS spectral fitting for simulation of user imported spectra
Wavelength options from the UVA to the Near Infrared
Quickly simulate any CIE illuminant or Macbeth™ / X-RITE™ Color Patch
Constant current drivers & built-in optical feedback ensure accurate & flicker-free output in real-time
ISO/IEC 17025 accredited by NVLAP (NVLAP lab code 200823-0) for calibration accuracy
Please contact us with your custom & OEM requirements.
Specifications
Options