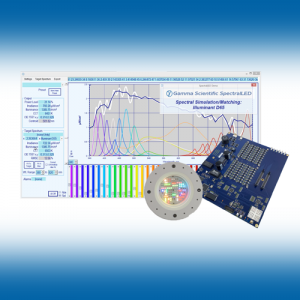 When high resolution and accuracy is required in a custom configuration, modular SpectralLED® solutions are available for OEM requirements. Control electronics, layout and wavelength selection of LED devices, light delivery optics, wavelength monitoring and detector / feedback systems can be combined or modified to precisely meet your needs.
Applications
Camera and image sensor calibration
Photodiode detector responsivity characterization
Spectrum / illuminant simulation
Diagnostic medical imaging
Technical and industrial photography
Overview
Unprecedented Resolution and Accuracy
32 discrete LED wavelengths from the UVA to the NIR
Powerful synthesis engine – quickly simulate any CIE Illuminant or MacBeth™ / X-Rite™ Color Patch
Flexible interface – built-in RMS spectral fitting for simulation of any user imported spectra
Uniform 75mm radiance output port or optional baffle tube for irradiance
Superior performance to tungsten-halogen and xenon lamps, with exponentially lower operating costs
Pure DC constant current drivers and built-in optical feedback photodiode system  – ensure accurate output in real-time
On-board thermo electric cooler and feedback – for precise LED temperature control
ISO/IEC 17025 NVLAP accredited calibration laboratory (lab code 200823-0) – ensures superior wavelength and color accuracy
Configuration Options
Customizeable Options include the following:
Number of channels (up to 64)
LED wavelength
Form factor
Optical frontend
With or without photodiode feedback
With or without temperature contol
Start with one of our base model options and modify to fit your exact needs.
Capabilities
Camera and image sensor calibration
Photodiode detector responsivity characterization
Spectrum / illuminant simulation
Diagnostic medical imaging
Technical and industrial photography
OEM Partner for:
Technical Integration
Maintenance cycles
High volume deployment
SDK/API included