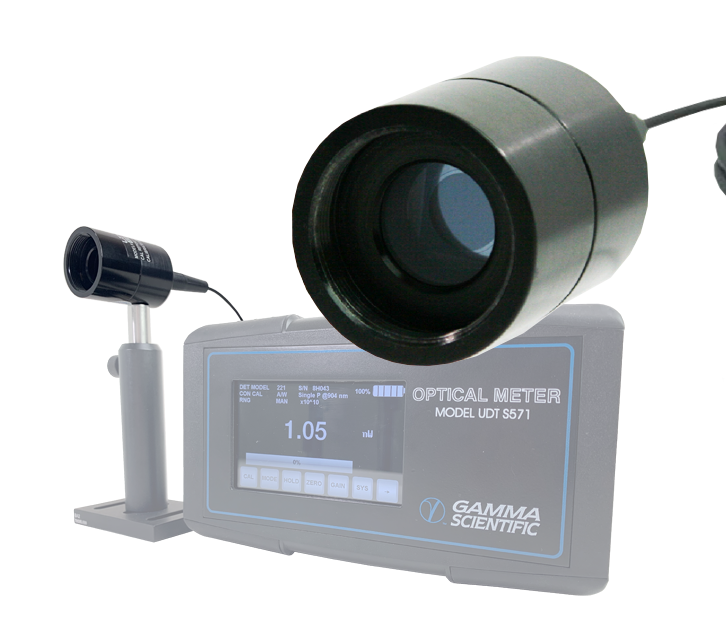 December 13, 2019 – San Diego, CA – Gamma Scientific announces the release of its UDT Series enhanced Radiometric Sensors. The product line delivers highly accurate results including femto-amp level sensitivity for ultra-low-light level measurement. Configuration options include miniature, low-profile, blue or UV optimized, InGaAs, and cooled sensors for a wide variety of applications ranging from 190 to 1750 nm.
With rise times to 1 µsec, pulsed energy measurements are also possible. Most configurations can easily be integrated with our extensive range of integrating spheres and other full test solutions for Laboratories, production line testing or OEM usage.  Sensors can be purchased individually or matched with our range of multi-channel, benchtop and handheld optical meters.  
All products feature NIST traceable calibration, carried out in our ISO 17025 NVLAP accredited laboratory. For the full range of products, please see https://www.gamma-sci.com/products/radiometric-sensor-catalog. 
---
For over 50 years, Gamma Scientific has delivered highly innovative, state-of-the-art and award-winning measurement solutions for manufacturers and users of light sources, sensors and displays.  Products include high precision spectroradiometers, calibration light sources, goniophotometers, integrating spheres, thin film measurement systems, and LED testers and sorters.  The company also operates an ISO/IEC 17025, NVLAP accredited laboratory (NVLAP Laboratory code 200823-0) for calibration and testing.
Contact:
Brock Koren
Vice President, Sales and Marketing