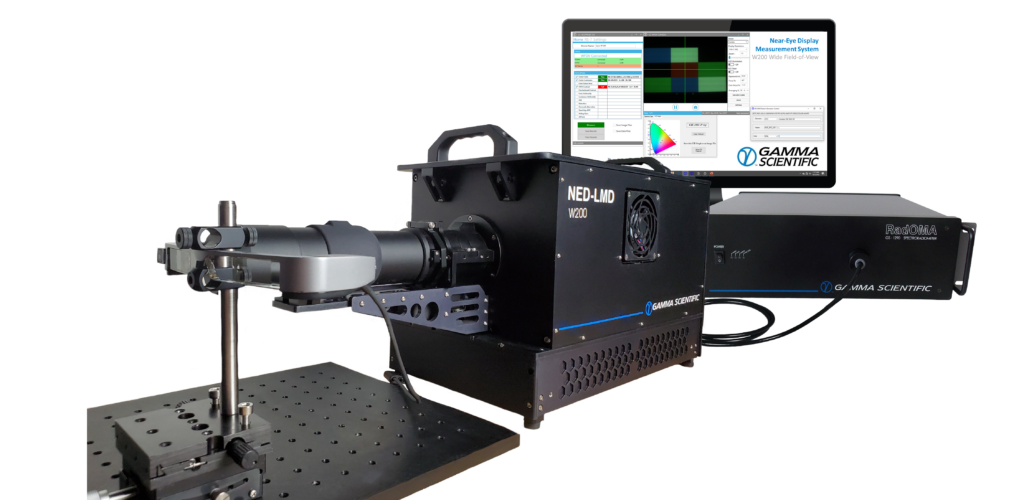 November 13, 2020 – San Diego, CA – Gamma Scientific announces the launch of a new program with a key-player in the consumer electronics industry. A new line of the NED-LMD Near-Eye Display Measurement System is currently being developed for this program, which will assist the user with obtaining a 158° wide field-of-view characterization of upcoming Augmented Reality, Virtual Reality, Mixed Reality, and Heads-up Displays (AR, VR, MR and HUDs), by also conforming to the NED metrology standards being developed by the ICDM committee of the SID and IEC.
Specifically, this new NED-LMD system offers high-accuracy and high-speed test solutions for near-eye displays. Its small 5mm entrance pupil emulates the human eye, while a motorized focus lens is utilized to automatically focus on the virtual image between infinity to 25cm. It is coupled with the proven GS-1290 Spectroradiometer from Gamma Scientific which ensures high spectral precision and color accuracy with high sensitivity and a high dynamic range. Its robust design and intuitive software allows it to be easily integrated on production lines.
---
For over 50 years, Gamma Scientific has delivered highly unique, state-of-the-art measurement solutions for manufacturers and users of light sources, sensors and displays. Products include high precision spectroradiometers, calibration light sources, goniophotometers, integrating spheres, thin film measurement systems, and LED testers and sorters. The company also operates an ISO 17025, NVLAP accredited laboratory for calibration and testing.