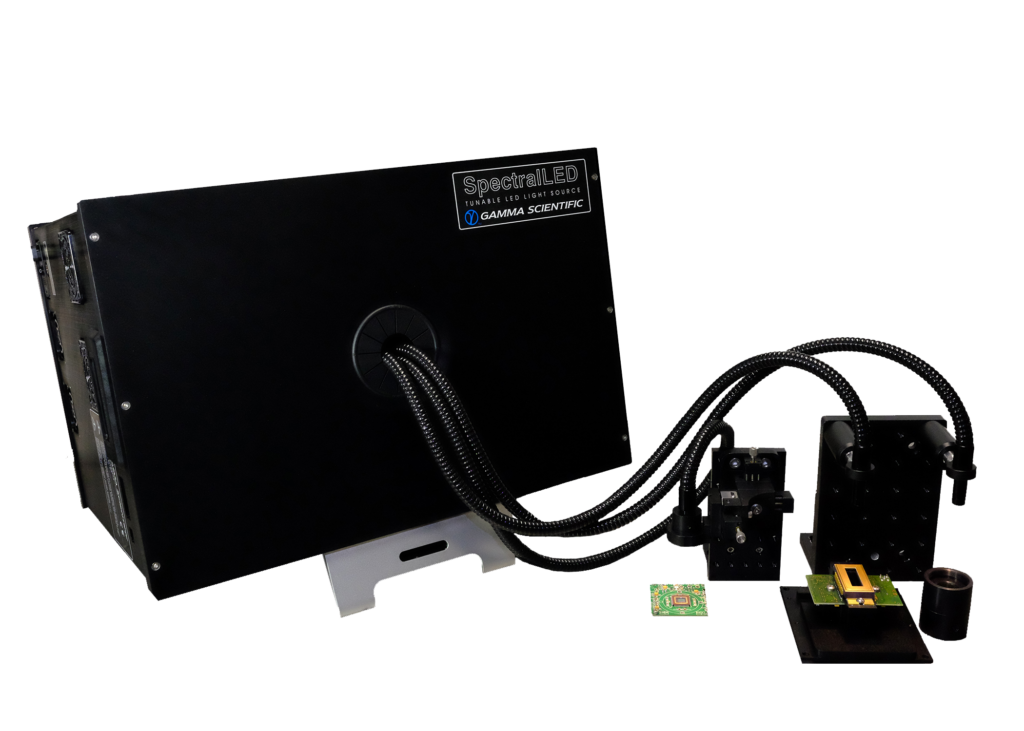 September 25, 2020 – San Diego, CA – Gamma Scientific announces the launch of a new project with a key-player in the image sensor industry. A new line of the SpectralLED® RS-7-3 Fiber Optic Output is being developed for this project, which will allow several devices to be simultaneously illuminated at different working locations.
Brock Koren, VP of Sales & Marketing at Gamma Scientific states, "We have sold many SpectralLED's to this customer in the past several years as a high-end research and development tool and are very excited about this large order utilizing our product in production."
The product line features a spectral range from 380 to 1,000 nm with illumination stability greater than 99.99%.  The illumination accuracy is NIST traceable to better than ± 3% with full-scale linearity better than 0.1% RMS.  Through its 16-bit DAC current drivers, users can achieve up to 5 decades of dynamic range adjustment with wavelength monitoring and a spectral accuracy greater than ± 1 nm. The firmware includes full spectral calibration with spectral fitting and storage of presets.
The standard configuration includes 4 output fibers with a diameter of 6.35mm and a 0.55 NA, thus allowing for multiple test instances to be carried out simultaneously.  The product family also features numerous configuration possibilities including custom and OEM options.  For more information, please see https://www.gamma-sci.com/products/rs-7-3-fiber-optic-output
---
For over 50 years, Gamma Scientific has delivered highly innovative, state-of-the-art and award-winning measurement solutions for manufacturers and users of light sources, sensors and displays.  Products include high precision spectroradiometers, calibration light sources, goniophotometers, integrating spheres, thin film measurement systems, and LED testers and sorters.  The company also operates an ISO/IEC 17025, NVLAP accredited laboratory (NVLAP Laboratory code 200823-0) for calibration and testing.