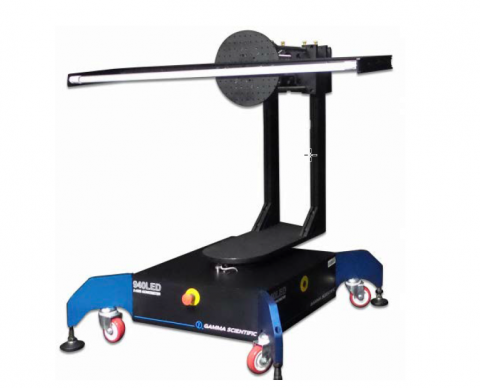 March 13, 2020 – San Diego, CA – Gamma Scientific announces the release of its 940 LED-1200 Series Goniometer. This product is optimized to provide precise measurement of angle dependent spatial radiation properties of large LED luminaires, lamps and modules, with models optimized for measuring different sample sizes.
The 940 LED-1200 measures samples up to 1250 mm in diameter and 30 kg in weight, and comply with CIE, DIN, and IES standards. The product features an angular range of ± 160° on the horizontal and vertical axis, with a 1mW, Class 2 alignment laser mounted in the center of the vertical axis.  
Complete goniometric measurement systems vary by customer requirements, two standard options include the Gamma Scientific GS-1220 Spectroradiomter with a 2 m flexible fiber-optic couple and a cosine collector, or the UDT S400 flexOPM Optical meter with a diffused photometric sensor. Learn more about the 940 LED Series Goniometers at: https://www.gamma-sci.com/products/940-led-series-goniometers
---
For over 50 years, Gamma Scientific has delivered highly innovative, state-of-the-art and award-winning measurement solutions for manufacturers and users of light sources, sensors and displays.  Products include high precision spectroradiometers, calibration light sources, goniophotometers, integrating spheres, thin film measurement systems, and LED testers and sorters.  The company also operates an ISO/IEC 17025, NVLAP accredited laboratory (NVLAP Laboratory code 200823-0) for calibration and testing.