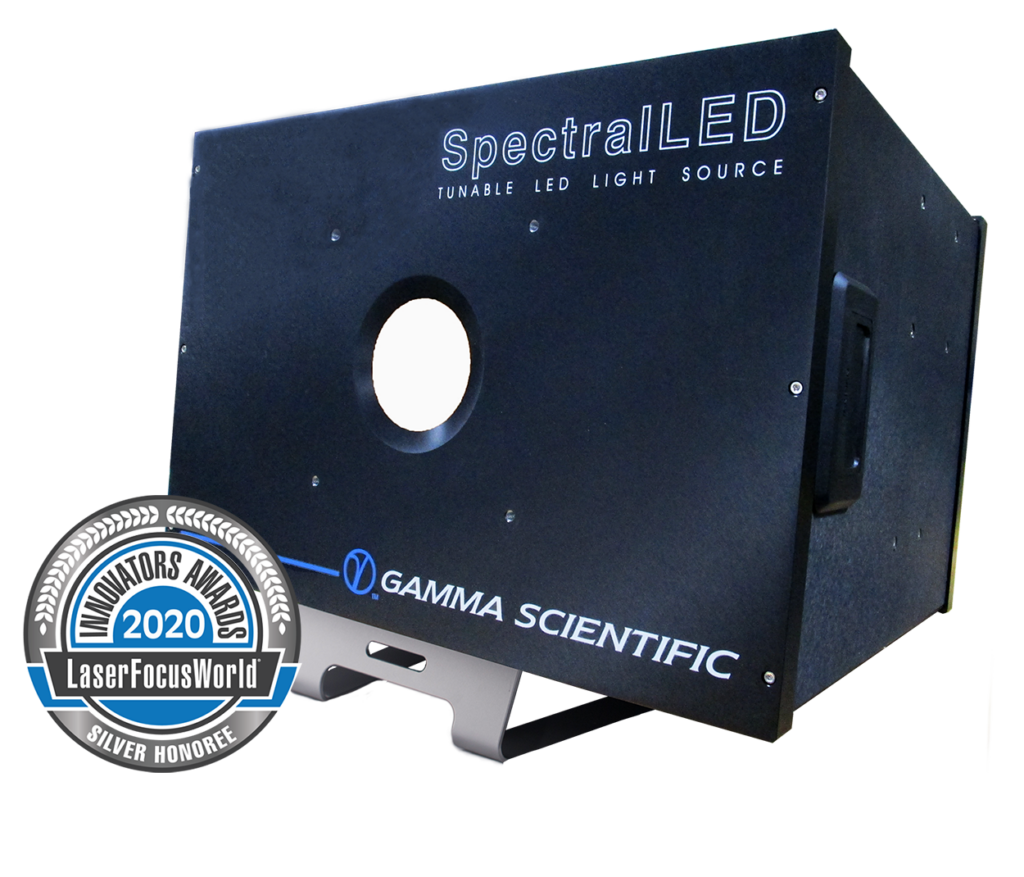 October 16, 2020 – San Diego, CA – Gamma Scientific announced today that its SpectralLED® RS-7-1-SWIR Tunable Light Source was recognized among the best by the 2020 Laser Focus World Innovators Awards. An esteemed and experienced panel of judges from the optics and photonics community recognized Gamma Scientific as a Silver honoree.
"On behalf of the Laser Focus World Innovators Awards, I would like to congratulate Gamma Scientific on their Silver-level honoree status," said Laser Focus World Editor in Chief John Lewis. "This competitive program allows Laser Focus World to celebrate and recognize the most innovative products impacting the photonics community this year."
The SpectralLED® Tunable SWIR source incorporates 9 short-wave infrared wavelengths for synthesis of commercially available light sources or based on spectra that you import. The platform is easily adaptable to automated test systems and production line integration, with integrated optical feedback and temperature control to ensure rock-solid stability and consistent results.
---
About Laser Focus World
Published since 1965, Laser Focus World has become the most trusted global resource for engineers, researchers, scientists, and technical professionals by providing comprehensive coverage of photonics technologies, applications, and markets. Laser Focus World reports on and analyzes the latest developments and significant trends in both the technology and business of photonics worldwide – and offers greater technical depth than any other publication in the field.
About Gamma Scientific
For over 50 years, Gamma Scientific has delivered highly unique, state-of-the-art measurement solutions for manufacturers and users of light sources, sensors and displays.  Products include high precision spectroradiometers, calibration light sources, goniophotometers, integrating spheres, thin film measurement systems, and LED testers and sorters.  The company also operates an ISO 17025, NVLAP accredited laboratory for calibration and testing.