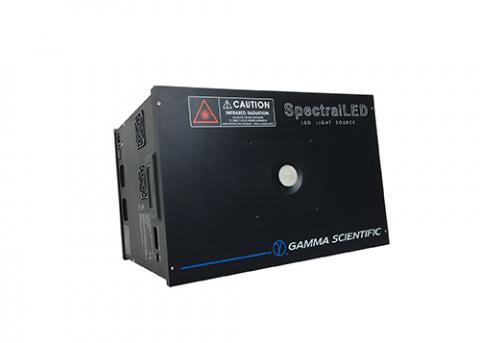 October 4, 2018 – San Diego, CA – Gamma Scientific announces the release of its SpectralLED® RS-7-940 platform. The system incorporates 16 discrete LED devices, all with a center wavelength of 940 nm. Light output occurs via a 38mm diameter homogenizing diffuser for > 97% spatial uniformity.   
Ideal for test & characterization of devices used for facial and gesture recognition, the platform is easily adaptable for automated test systems and production line integration, with integrated optical feedback and temperature control to ensure rock-solid stability and consistent results.
The product line features constant current drivers for ultra-stable performance, delivers accurate and flicker-free output in real time, and utilizes all solid-state sources for rapid start-up and repeatable performance.  Through its 16-bit DAC current drivers, users can achieve up to 5 decades of dynamic range adjustment with illumination stability > 99.99%.  
Custom configurations are available, along with our range of tunable SpectralLED light sources with operating ranges from 380 to 1000 nm, or from 900 to 1700 nm.