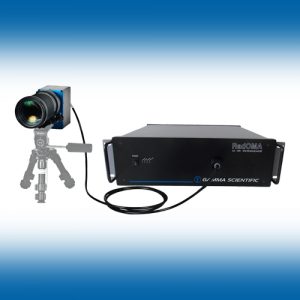 Designed for manufacturers of military displays and other lighted instrumentation used in conjunction with night vision imaging systems (NVIS) that require their products to conform to MIL-STD-3009, the GS-1290-NVIS is an advanced, high-speed spectroradiometer that combines the leading-edge sensitivity of backside-thinned CCD detector technology with the industry-renown RadOMAcam radiometric telescope from Gamma Scientific. The instrument exceeds all requirements outlined in MIL-L-85762A and MIL-STD-3009, covering the range of 360-930nm with six different field-of-view apertures. Original system calibration is performed in our ISO/IEC 17025 accredited laboratory by NVLAP (NVLAP lab code 200823-0), and through our Light Touch software, users with a known calibration standard can perform in-house calibration if so desired.
While competitive systems target a 10:1 signal-to-noise (SNR) measurement ratio, our GS-1290-NVIS spectroradiometers are designed and built to deliver SNR of 100:1 or greater. This increase in the performance level enables manufacturers to ensure that their products are fully compliant with the MIL-SPEC, without the downside of unnecessarily failing good product.
Overview
Specifications
Options
Videos
Overview
Gamma Scientific has been performing Night Vision compatibilty testing on cockpit displays and aircraft lighting since the induction of MIL-L-85762 in 1986. From NVIS Radiance and Chromaticity testing to Contrast Ratio testing, Gamma Scientific can perform all the testing required to pass MIL-L-85762A and MIL-STD-3009.
Measurements to 1.5 x 10-4 cd/m2  with a 100:1 SNR
Resolution of 0.6 nm per pixel with dual-stage, cooled CCD
Wavelength range options of 400-930nm or 400-1100nm
Aperture Settings from 0.1° to 5°
Internal LED spot projector and digital viewfinder indication and recording of precise measurement location
USB 2.0 Interface and Windows-based Light Touch NVIS Software
Pass / Fail Report generator per MIL-STD
Direct Excel export of data and reports
Can be user-calibrated with known standard
Specifications
Options
Videos