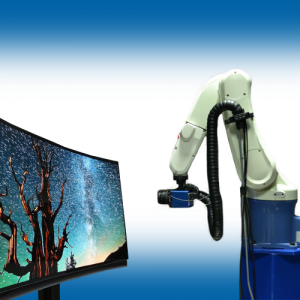 The GS-1290-DMS-RBT series combine a 6-axis robot, our state-of-the-art GS-1290 spectroradiometer, and decades of software and integration expertise into an automated display measurement solution.  The system delivers fast and accurate test and characterization information in a tried-and-true integrated platform.
Each system is fully customizable to meet your immediate needs, while also offering the flexibility to accommodate future display testing requirements. Robotic Display Measurement Systems allow you to replicate real-world applications by keeping the display stationary throughout the measurement process.
Measurement Capabilities
Brightness and ANSI contrast
True IEC Color Coordinates and Spectrum Information
White Point and Color Gamut
Color and Brightness Uniformity
Viewing Angle
Response Time
Polarization analysis
Overview
Exceptional Sensitivity and Speed for Display Characterization
Compatible with curved, flat, 2D or 3D displays
LCD, OLED, micro LED display and Quantum Dot Display
Flexible software platform for easy customization
Integral pattern generator
Self-alignment functionality with ultrasonic distance finder
Spectroradiometer featuring back thinned CCD technology for highly accurate measurements of wavelength, color and power
Original system calibration is performed in Gamma Scientific's NVLAP accredited laboratory (NVLAP Lab Code 200823-0) using NIST-traceable standards.
Specifications
General Specifications

Angular Repeatability

± 0.01 degrees

Angular Resolution

0.002 degrees

Range of Motion

± 90 degrees

Reach

Up to 1.3 meters

Maximum Measurement Speed

Approximately 1 per second

Computer Control

USB, RS-232, Ethernet

Software

Light TouchTM DMS and RadOMAcam

Standard Windows-based user interface

Power Requirements

220 VAC, 3-phase

Spectroradiometer

GS-1290-3

360 to 950 nm

10 nm slit setting

Specifications are subject to change without notice.
Videos