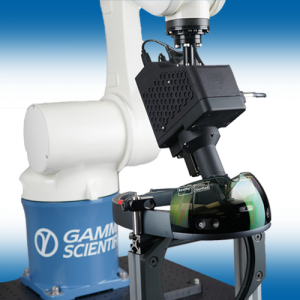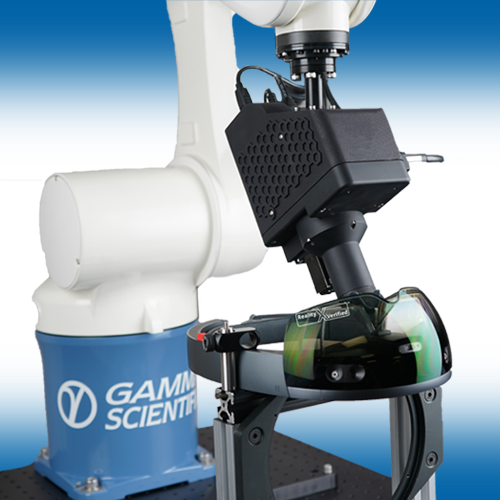 Near Eye Display Measurement System – HighRes Goniometric
The world's most comprehensive test systems to completely characterize augmented reality, virtual reality, mixed reality, and heads-up displays (AR, VR, MR and HUDs) by truly emulating the human eye and conforming to the latest standards being developed by the IEC and SID.
This award winning 'Robotic Eye' uniquely correlates the measurements to a human user for meaningful, high resolution, zero distortion and wide field of view 3D spatial + spectral mapping of the qualified viewing space of near-eye displays.
The product features a fully automated software test suite, GSNEDTest, with over 20 unique tests, quick test results, live plots and automatic test report generation capability. It also includes an in-built pattern generator tool and versatile SDK for building custom tests; thereby making it an ideal solution for R&D design validation.
Also available with our Rx prescription system
Measurement Capabilities
System Key Advantages
Typical System Configuration
Sample Test Report
Videos
Measurement Capabilities
Measurement Capabilities

✔

Center Color and Luminance

✔

Luminance and Color Uniformity

✔

Field of View (FOV) by Luminance & Contrast

✔

MTF Curves & Device Contrast Mapping

✔

Design EyeBox Mapping by Luminance & Contrast

✔

Auto Virtual Image Distance

✔

Image Geometric Distortion

✔

Chromatic Aberration

✔

Astigmatism

✔

Left / Right Eye Parallax

✔

Color Gamut Area

✔

Checkerboard Contrast

✔
FOFO or Sequential Contrast
✔
Slant Edge MTF
✔
Interpupillary Distance (IPD) by Luminance & Contrast
✔
9-point Image Translational Contrast
✔
Veiling Glare
✔
Ghost
✔
Flicker & Response Time
✔
Spectral Transmittance
✔
Ambient Contrast
System Key Advantages
Typical System Configuration
Sample Test Report
Videos