Display Test & Characterization Solutions
Our range of NIST traceable solutions include handheld and portable instruments, laboratory equipment, and fully automated production inspection systems.
GS-1160 Handheld Spectroradiometer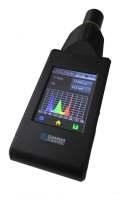 A compact, high-speed, and lightweight spectrometer/flicker meter suitable for color and intensity measurement of all display types including LCD, LED, OLED, and Quantum Dot displays. 
GS-1160B COMPACT SPECTRORADIOMETER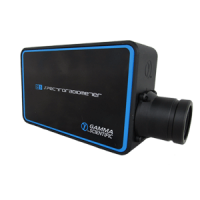 Superior to filter-based colorimeters as it is not affected by filter matching errors, it delivers true spectral-based measurement accuracy required for the higher color saturation and wider color gamut of OLED displays.
GS-1290-DMS DISPLAY MEASUREMENT SYSTEM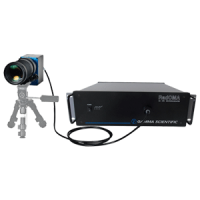 Represents the state-of-the-art in speed and accuracy, with the highest dynamic range in an array-type spectroradiometer available.
GS-1290-DMS-RBT ROBOTIC DISPLAY MEASUREMENT SYSTEM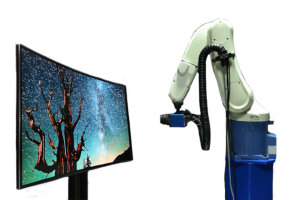 Combines a 6-axis robot, our state-of-the-art GS-1290 spectroradiometer, and decades of software and integration expertise into an automated display measurement solution. The system delivers fast and accurate test and characterization information in a tried-and-true integrated platform.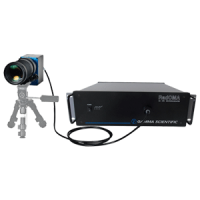 Designed for manufacturers of military displays and other lighted instrumentation used in conjunction with night vision imaging systems (NVIS) that require their products to conform to MIL-STD-3009.
GS-1163 MULTI-VIEW ANGLE SPECTRORADIOMETER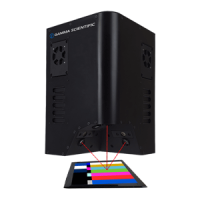 Designed to measure color and luminance at three different angles simultaneously. As part of the Vector line of multi-view angle display spectrometers, the system integrates a flicker sensor and three spectrometers into one module at -60, 0, and 60 degrees for high-speed and accurate concurrent spectral measurements.
GS-1164 MULTI-ANGLE SPECTRORADIOMETER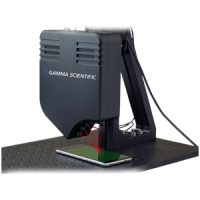 Designed to measure color and luminance at four different angles. Color and Luminance measurements are made simultaneously at 0, 30, 45 and 60 degrees. It integrates four spectrometers into one module for high speed and accurate spectral measurements of Displays.
GS-1164-6 SIX VIEW-ANGLE SPECTRORADIOMETER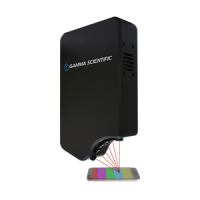 Six view-angles of display measurement with one click. Displays can be tested simultaneously from the six different view-angles to provide characterization and immediate insight into how they will be viewed in the real-world.
VDU-1160 2D SPECTRAL IMAGING COLORIMETER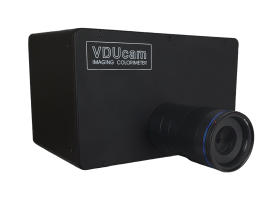 A next-generation family of 2D spectral imaging colorimeters combining the strengths of a CCD image sensor and high-performance spectroradiometer.
| | GS 1160 | GS 1160B | GS 116X | GS 1290 | GS 1290 – RB | GS 1290 – NVIS |
| --- | --- | --- | --- | --- | --- | --- |
| Form Factor | Handheld | Compact | Benchtop | Benchtop | 6 Axis Robotic | Benchtop |
| Spectrometer Type | Spot | Spot | Spot | Array | Array | Array |
| Dynamic Range (Nits) | 05 – 5,000 | 05 – 5,000 | 05 – 5,000 | .005 – 675,000 | .005 – 21,900,000 | .005 – 21,900,000 |
| Multi-Angle | – | – | (3 – 6) | – | – | – |
| Night Vision | – | – | – | – | – | |
| Flicker | | | | – | – | – |
| Goniometric | – | – | – | | | |
| Lens Option | – | – | – | | | |
| | READ MORE | READ MORE | READ MORE | READ MORE | READ MORE | READ MORE |
| Product Family | VDU 12 | VDU 12 – CF | VDU 65 – CF |
| --- | --- | --- | --- |
| Form Factor | Benchtop | Benchtop | Benchtop |
| Spectrometer Type | 2D | 2D | 2D |
| Colorfilter | – | | |
| Dynamic Range (Nits) | .01 – 50,000 | .01 – 50,000 | .01 – 50,000 |
| Camera Sensor | 12 MP | 12 MP | 65 MP |
| Resolution | 4000 x 3000 | 4000 x 3000 | 9300 x 7000 |
| Standard Lens | 35 or 50mm | 35 or 50mm | 35 or 50mm |
| Macro Lens (up to 5x) | | | |
| | READ MORE | READ MORE | READ MORE |